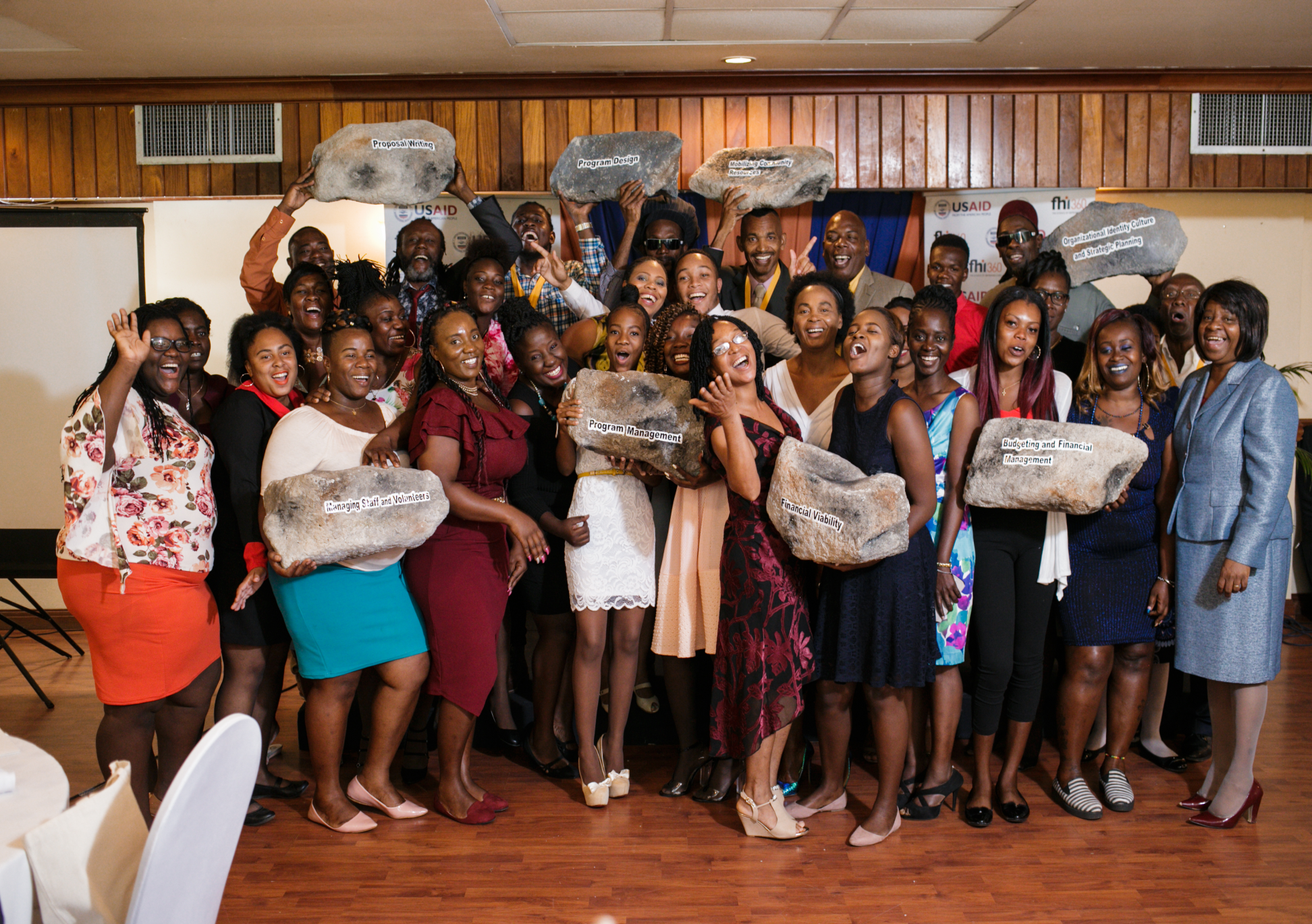 (Graduates: Advocate for CHANGE, Catholic College of Mandeville, Chance Creative Intervention Program, Citizens  Action Against Crime, Dela Vega City Football Club, Dela Vega City Netball Club, Dela Vega City Senior Citizens Association, Demeica GSAT Foundation, Elevate Her, Effortville CDC, Greenvale Community Sports Club, Home2K Ministries, Mocho Police Youth Club, Peppaz Entertainment & Productions, Ridge Red Bank CBS, Spanish Town SDA Skills Training, Women for Change)
Mandeville, Jamaica – Seventeen organizations from Central Jamaica celebrated the successful completion of the ten-month Stepping Stone to Success program at a graduation ceremony held on April 17, 2019. Funded by the United States Agency for International Development (USAID) and implemented by FHI 360, the Stepping Stone to Success program target groups working in areas related to preventing youth crime and violence and offers a multifaceted approach to building the capacity of grassroots and community-based organizations, through training, peer learning and mentorship support.
Many grassroots and community-based organizations are tirelessly working with at-risk youth and keeping their communities safer. They do it with passion and heart, but often do not have the internal capacity to achieve long-term sustainability or attract significant donor funding. The Stepping Stone to Success program fosters collaboration and peer learning, ensuring that participants are prepared to manage and resolve organizational challenges, through development is areas such as strategic planning, mobilizing community resources, program management, financial management, proposal writing and access to funding.
USAID Jamaica Director for the Office of Citizen Security, Ms. Shannon Stone, commended the initiative, highlighting that "it is through interventions like these, that invest in the long-term sustainability and effectiveness of community-based organizations serving volatile, and marginalized communities, that Jamaicans can create meaningful solutions to the crime and violence challenge that Jamaica faces." She further commended the graduating organizations remarking that "your contribution to your communities is noted and greatly appreciated! Without your hard work and dedication, we will not be able to build safe Jamaican communities and the larger society." 
Steve McGregor, Assistant Commissioner of Police, commended the Stepping the Stone to Success Program remarking that "it is not the ZOSO or enhanced security operations that will change Jamaica. What will stem crime and violence is empowering our communities to change their attitudes and increase their impact to effect change to the crime situation." He charged the graduates that "this is not the end, but the beginning of what will happen! Now you must go back to your communities to transfer what you have learnt and influence others to make a difference."
Approximately 80 individuals were present at the graduation ceremony including Acting Custos of Manchester – Garfield Green, Deputy Superintendent of Police – Elsa Smith, Chairman of the Manchester Parish Development Committee - Anthony Freckleton; as well as representatives from the Social Development Commission, the Planning Institute of Jamaica, the Ministry of National Security and non-governmental organizations. The graduating class represents a diverse array of organizations to include sports clubs, a police youth club, an advocacy group, women empowerment organizations, educational institutions and skills training providers.
Further information:
About Local Partner Development
FHI 360 is implementing Local Partner Development, a five-year project intended to build the capacity of Jamaican non-governmental organizations, social enterprises, community-based organizations, other civil society organizations and government entities. Funded by USAID under the Caribbean Basin Security Initiative (CBSI), LPD's intent is for the Jamaican organizations it supports to become more effective and sustainable actors, with the goal of improving Jamaican citizen security and social cohesion; with particular focus on preventing youth crime and violence.
About USAID
USAID leads international development and humanitarian efforts to save lives, reduce poverty, strengthen democratic governance and help people progress beyond assistance. To learn more about USAID Jamaica, visit https://www.usaid.gov/jamaica
About FHI 360
FHI 360 is a non-profit human development organization dedicated to improving lives in lasting ways by advancing integrated, locally driven solutions. Its staff includes experts in health, education, nutrition, environment, economic development, civil society, gender, youth, research, technology, communication and social marketing — creating a unique mix of capabilities to address today's interrelated development challenges. FHI 360 serves more than 60 countries and all U.S. states and territories. For more information on LPD, visit https://www.fhi360.org/