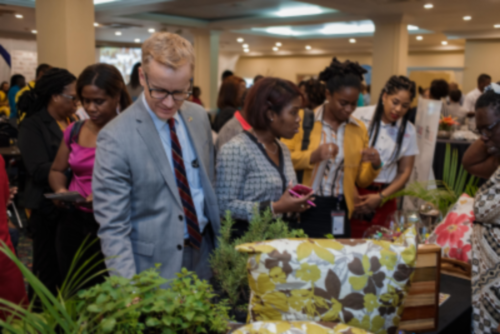 FHI 360 presented the first cohort of entities selected by Local Partner Development (LPD) at a Showcase that was hosted on May 30, 2018 at the Knutsford Court Hotel, Kingston, Jamaica. Local Partner Development (LPD) has partnered with two core training partners and seven social enterprises, as part of its mandate to strengthen Jamaica's civil society and empower social enterprises in Jamaica.
The social enterprises, Flanker Resource Center, Jeffrey Town Farmers' Association, The Rockfort Development Council, Rock Spring Farms, Abilities Foundation, New Horizons Christian Ministries and Caribbean Christian Centre for the Deaf comprised the group that displayed at the showcase as part of the LPD Business Incubator, which will provide business development, mentorship and coaching to improve the performance of social enterprises that cater to communities and foster security and development. In addition, LPD has partnered with Jamaica National Foundation and RISE Life Management Services, to enhance their abilities to better contribute to Jamaica's development and overall security. These partners will also assist local civil society organizations, social enterprises and other non-government entities with achieving their objectives. 
The Showcase was attended by approximately 130 persons from civil society, government and the private sector, who got the opportunity to enjoy and purchase the products that were displayed by the social enterprises. The attendees were also exposed to new knowledge through two breakout sessions delivered by core partners RISE Life Management Services and JN Foundation. LPD continues to roll-out its services to Jamaica's civil society and is in the process of finalizing the selection of 30 additional partners, who will receive grant funding and tailored capacity building support towards organizational strengthening.